One unsurprising finding in the midst of an uncertain year? Female physicians continue to earn less than male physicians, according to a recent survey.
Overall, men earn 35% more than women, per the 2021 Medscape Female Physician Compensation Report. The most dramatic differences in take-home pay are between male and female specialists. For men, the average annual compensation is $376,000, whereas women take home $283,000. The survey only included physicians in full-time roles.
Men have made more than women in all 11 iterations of Medscape's annual survey regarding earnings by gender.
The 2021 report also found that female specialists earn $283,000, whereas their female colleagues in primary care roles earn $211,000. Their compensation packages are mostly on par with the 2020 report, which found that female specialists earned $286,000 and female primary care physicians took home $212,000.
In every age range, female physicians continue to earn less than their male colleagues. In 2021, the pay gap between men and women in the middle age range is wider than it was in the 2020 report. With an annual compensation of $376,000, male physicians between the ages of 45 and 54 earn nearly $100,000 ($99,000) more than their female colleagues. The wage gap between physicians aged 55 years and older is $75,000, according to the 2021 report.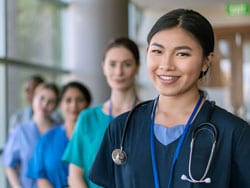 At an average annual compensation of $281,000, female physicians in office-based solo practices earn more than their female peers in 2021. Hospitals and office-based, single-specialty groups find women with the second- and third-highest compensation packages, at $269,000 and at $268,000, respectively. Working in an outpatient clinic is the least financially rewarding for female physicians, at $233,000.
COVID Taking a Toll on Critical Care Physicians
Physicians report working approximately 51 hours each week. Physicians of both genders spend an average of 16.3 hours each week on paperwork and administration, although female physicians report spending approximately 10% less time seeing patients.
Twenty-nine percent of female physicians cite gratitude or the relationships they have with patients as the most rewarding aspect of their work. At 28%, a close-second reason is knowing that they're "making the world a better place." Only 10% of female doctors said the money they earn is the most rewarding aspect of their jobs. Male physicians are more likely than their female peers to cite "being very good at what they do" as their top reward; otherwise, responses were similar among the genders.
Female dermatologists, nephrologists, ophthalmologists, and oncologists are the most likely to say they would choose to be a physician again, but most female physicians agree with this sentiment. Still, caring for patients with COVID-19 seems to have taken a toll on women who practice in critical care. In the 2020 report, 88% of women in this speciality indicated they would choose their profession again; that metric fell to 74% in 2021.
In the survey, compensation for employed physicians included salary, bonus, and profit-sharing contributions. Self-employed physicians' compensation included salary, earnings after taxes, and deductible business expenses (before income tax).
Participating in the survey were 17,903 physicians, who represent more than 29 specialties. Only physicians practicing in the United States were included in the online survey, which was conducted from October 6, 2020, to February 11, 2021.
For more news, follow Medscape on Facebook, Twitter, Instagram, and YouTube.
Source: Read Full Article