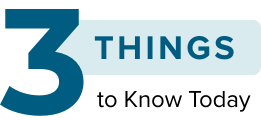 As Monkeypox Spreads, White House Declares Public Health Emergency
Yesterday, the Biden administration declared monkeypox a public health emergency in during a briefing led by US Department of Health and Human Services Secretary Xavier Becerra.
Circumventing full federal review: The move allows federal health officials to expedite preventive measures to treat monkeypox.
Cases rising: As of Thursday, there are 6600 cases of monkeypox in the United States, up from 5000 last week.
Vaccines on the way: 800,000 monkeypox vaccine doses will be available for distribution according to US health officials. Local health officials in states experiencing outbreak hotspots say there is a large disconnect between the allotted doses vs what they need.

Pediatricians Struggle to Break COVID Vaccine Logjam
The slow-going process of vaccinating infants, toddlers, and kindergartners against COVID-19 appears to be losing momentum, according to new analysis.
Low vaccination rates: As of July 20, only 2.8% of children between ages 6 months and 6 years have received their first dose. For comparison, nearly 20% of 5- to 11-year-olds received their first dose in the first month of eligibility last year.
Words speak louder than actions: More than half of those surveyed between October and December 2021 said that they would probably vaccinate their children against COVID-19 when possible.
Unfounded concerns: Parental fears about the vaccine include safety and effectiveness, neither of which have been in question, according to experts.
Let's talk about it: Conversations with parents about the vaccine approval process and potential unknown long-term health effects of COVID-19 can be beneficial, according to experts.

Peer Pressure Can Help Reduce Opioid Orders
Peer pressure is a formidable force when reducing opioid prescriptions for patients with pain, according to a new study.
Peer notifications: A system that allowed physicians to see how often fellow physicians prescribe opioids to patients with noncancer pain led to a decreased likelihood of ordering opioids.
Other solutions: Influencing physicians to prescribe fewer opioids through the power of position reinforcement and indirect suggestions could be effective.
Crisis in context: More than 564,000 people died from opioid-related overdoses between 1999 and 2020. In 2020, there were nine times the number of opioid fatalities compared with 1999.
Kaitlin Edwards is a staff medical editor based in New York City. You can follow her on Twitter @kaitmedwards. For more news, follow Medscape on Facebook, Twitter, Instagram, and YouTube.
Source: Read Full Article