Most diets promise to help you lose weight fast, but a new diet offers bolder claims. Researchers have developed the "planetary health diet" to make the world's population healthier, eliminate hunger, and save the planet.
An estimated 10 billion people will live on our planet by 2050. In a report published in The Lancet, researchers warn that this large population, combined with current dietary trends and food production, will only drive an increase in diseases, world hunger, and greenhouse-gas emissions. But they say a complete global overhaul of how we eat "can provide win-win diets to everyone by 2050 and beyond."
If you already follow a plant-based diet, the proposed plan may not seem so bad. However, if you're a regular steak eater, you'll have to make some pretty drastic changes.
Here's what the planetary health diet entails:
On this plan, you'll consume mostly fruits, vegetables and legumes, while cutting meat and sugar. In particular, red meat is significantly reduced. In fact, scientists estimate that North American populations eat six times more red meat than the amounts proposed in the planetary health diet.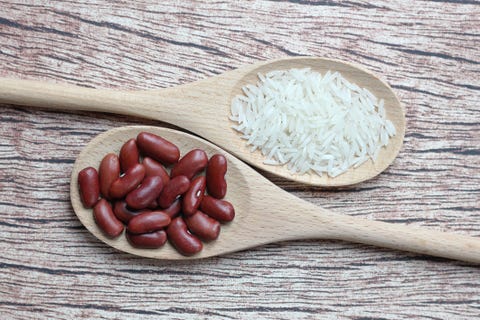 Getty Images
Here's what a typical day would look like, according to the report:
Wheat, corn and rice products – 232 grams
Starchy vegetables – 50 grams
All other veggies, like leafy greens and peppers – 300 grams
Fruit – 200 grams
Dairy – 250 grams
Beef, lamb, and pork – 14 grams (For comparison, quarter-pound burger is 113 grams)
Poultry – 29 grams (a four-ounce breast is 112 grams)
Eggs – 13 grams (a large egg is about 50 grams)
Fish – 28 grams (a 3 ounce-serving of salmon weighs about 85 grams)
Dry beans, lentils, and peas – 50 grams
Soy foods – 25 grams
Nuts – 50 grams
Sugar – 30 grams
Oils – 50 grams
As the daily portions of meat are small, it's safe to say you'll likely save up the recommended allotment for a weekly burger. Instead, you'll fill up on produce, some beans, a couple of slices of whole wheat bread, half a cup of oatmeal, and a half of cup of rice each day.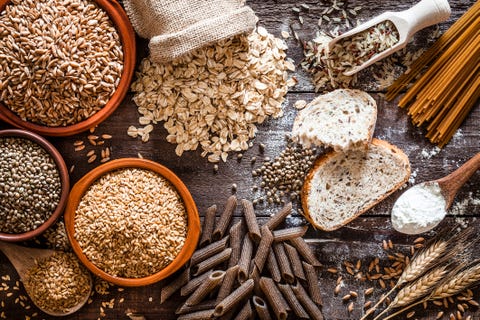 Getty Imagesfcafotodigital
Why should we follow the planetary health diet?
Well, researchers say this plan will help us live longer, protect the planet, and ensure there's enough food to feed everyone. According to study co-author Johan Rockström at the Stockholm Resilience Centre in Sweden, the measures are drastic–but necessary.
"Humanity now poses a threat to the stability of the planet," he told The Guardian. "[This requires] nothing less than a new global agricultural revolution."
And following this diet will help you lead a longer, healthier life, according to the report.
"We estimated that adopting the reference diet could avoid about 11.1 million deaths per year in 2030 and reduce premature mortality by 19 percent," the authors write. They believe that lowering sodium intake and increasing whole grain, nut, vegetable, and fruit consumption would decrease illnesses like coronary heart disease, stroke and type-2 diabetes.
There's no debating that the proposed plan is a complete shift from the way many of us eat, and some believe the diet just isn't feasible.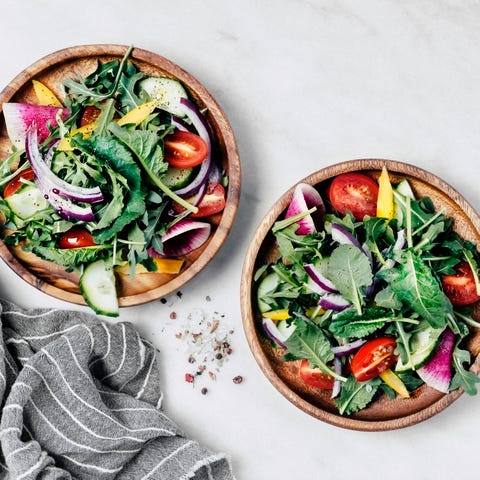 Getty ImagesClaudia Totir
Alan Dangour, professor in food and nutrition at the London School of Hygiene and Tropical Medicine, told CNN the plan "is quite a shock." Dangour was not a part of the study, and explained the diet isn't easy to implement since it requires governments worldwide to work together. Plus, there's the matter of getting individuals to change their diets–which isn't easy.
But Marco Springmann of Oxford University, who was a part of the study, thinks sacrificing your daily burger is worth it.
"The planetary health diet is based on really hard epidemiological evidence, where researchers followed large cohorts of people for decades," he explained to The Guardian. "It so happens that if you put all that evidence together you get a diet that looks similar to some of the healthiest diets that exist in the real world."
Although this diet is likely to stir up mixed opinions, there's no denying that everyone could benefit from eating their fruits and veggies.
Source: Read Full Article