Teen defies mother's wishes, gets vaccinated
Getting vaccine exemptions may now be easier for residents in Texas, after a new bill was filed in the Texas House of Representatives.
Representative Matt Krause filed House Bill 1490 on Feb. 7, which would change how people file vaccine exemptions. The goal would be to make it easier to claim an exemption from required immunizations for public school students.
The bill would stop the Texas Department of State Health Services from maintaining a record of those vaccine exemptions, reported fox4news. When passed, it will be more difficult to find the number of affidavit forms submitted, if a potential outbreak was caused by an unvaccinated child.
The Texas Health and Safety Code states: "The department shall maintain a record of the total number of affidavit forms sent out each year and shall report that information to the legislature each year."
UNVACCINATED FRENCH BOY, 5, ISOLATED IN COSTA RICA WITH SUSPECTED CASE OF MEASLES
Bill 1490 would also make it easier for people to get vaccine exemption forms.
Currently, to get a vaccine exemption, Texans have to submit a written request to the health department. If the bill gets passed, those same forms would be available online, carving an easier path towards getting an exemption.
Another change involves the health department. They will be forced to state how they "may not maintain a record of the number of affidavit forms submitted."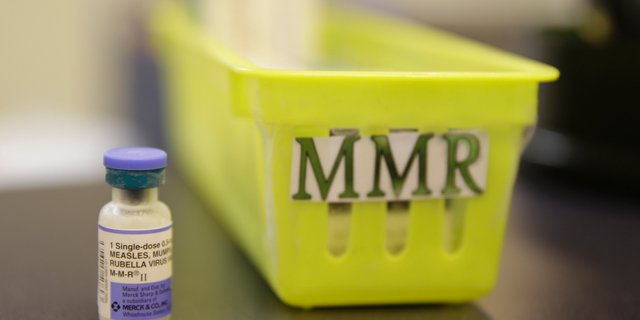 The U.S. has counted more measles cases in the first two months of this year than in all of 2017 _ and part of the rising threat is misinformation that makes some parents balk at a crucial vaccine, federal health officials told Congress Wednesday, Feb. 27, 2019.
(AP)
In 2004, 2,300 students had non-medical exemptions for vaccines. In 2018 that number rose to 57,000, per Texas Health and Human Services. This comes in the wake of the anti-vaxxer movement that has greatly increased over the past few years. In 2003, Texas Legislature passed a law allowing parents to not vaccinate their children after an article linked vaccines to autism.
DR MARC SIEGEL: MEASLES OUTBREAKS ARE FAR WORSE THAN THE VACCINE THAT CAN PREVENT THEM
In 2019, there have been eight reported cases of measles, a disease that was declared "eliminated" from the United States in 2000.
Krause spoke to the Texas Observer about concerns from the medical community regarding this bill.
"They did a very good job of painting the worst-case scenario," Krause said. "I'm not so sure those fears are founded."
CLICK HERE FOR THE FOX NEWS APP
Last year, Krause filed a similiar bill, but it didn't get out of committee.
Source: Read Full Article