Next-Gen Contact Lenses: Beyond Vision Correction
Evolution of contact lenses
Biomimetic design
Materials advancements
Technological advancements
Application of next-generation smart contact lens
Retinal prosthesis
Diagnosis of corneal disease
Glaucoma treatment
Future outlook of SCLs
References
Further reading
---
Contact lenses are ocular prosthetic devices used by millions of people across the world. Although the main application of contact lenses is vision correction, these are also used for cosmetic and medical purposes. The creation of a smart contact lens (SCL) equipped with electronic components, such as sensors and components of wireless communication, allows it to measure multiple biometric data that could help in disease diagnosis and treatment.
Evolution of contact lenses
The first contact lens was developed in the 1960s based on polymethyl methacrylate (PMMA) material. This contact lens was rigid and hard. A major disadvantage of PMMA contact lens was that it did not allow oxygen to permeate the cornea. When the user blinked, the shift in the lens enabled oxygen to come in contact with the cornea. Eventually, gas-permeable lenses were designed based on silicone and fluoropolymers. The creation of soft lenses has revolutionized the contact lens industry, and they are the most comfortable to use.
Contact lenses have evolved with the advancements in materials. The evolution of contact lenses is also associated with advancements in technology, manufacturing processes, chemical and physical properties, and reduction in microbial contamination and ocular complications. Some key areas linked with the contact lens evolution are discussed below.
How do Contact Lenses Work?
Biomimetic design
Contact lenses are designed and manufactured based on a biomimetic approach. For instance, biomimetic contact lenses are coated with hyaluronic acid (HA) binding protein that enables better binding of water to the lens. HA is a naturally occurring glycosaminoglycan that improves viscosity and lubrication of the contact lens.
Recently, a polymer containing a 2-methacryloyloxyethyl phosphorylcholine (MPC) unit was created that mimics the surface of the cornea. This material has improved many adverse effects experienced by contact lens wearers. However, the degree of improvement is variable for users.
Materials advancements
The advancements in materials used to manufacture contact lenses reduced the adverse effects linked to their use, preserved a regular corneal metabolism, and maintained tear film stability. The use of silicone hydrogel to manufacture contact lenses has minimized the negative effects of contact lenses.
Technological advancements
Some key technologies for fabricating and analyzing SCLs are microfluidics, photolithography, injection molding, soft lithography, and laser ablation. Recently, scientists from Oregon State University used ultra-thin transistor technology to design SCLs that can register information about the wearer's physiological state. It was developed using an indium gallium zinc oxide (IGZO) transistor and glucose oxidase. This ocular prototype can detect glucose levels, making it extremely useful to monitor people with diabetes.
Although this futuristic contact lens is still in the prototype phase, scientists are extremely optimistic about its successful completion of animal testing. Several biotech companies have shown interest in developing this contact lens, which has increased the possibility of commercial success.
Application of next-generation smart contact lens
The SCL is a wearable ophthalmic device associated with functions beyond vision correction. SCLs treat eye diseases by delivering drugs and light, heat, and electrical stimulation. These devices help diagnose and treat diseases.
As stated above, these contact lenses are integrated with sensors, components of wireless communication, and microprocessors to measure biological markers, such as the glucose in tears, and 24-hour monitoring of intraocular pressure (IOP).
A SCL can also treat multiple eye diseases, including glaucoma, cataracts, dry eye syndrome (DES), eye infections, and inflammation. The SCL also has the potential to treat age-related macular degeneration (AMD), diabetic retinopathy (DR), retinitis, and posterior uveitis. Some of the recent applications of SCLs are discussed below.
These smart contacts can monitor the glucose in tears
Retinal prosthesis
SCLs can be used as retinal prosthesis, also known as artificial retina. This medical device can restore vision in people with specific types of blindness. A retinal prosthesis is used to treat people with degenerative retinal diseases, including AMD and retinitis pigmentosa (RP). Although this treatment does not restore normal vision, it enables some degree of visual perception, such as detecting movement and recognizing shapes.
These visual improvements help patients to navigate through their environment. It must be noted that retinal prosthesis is still in its early developmental stage and is one of the most innovative ocular devices.
Diagnosis of corneal disease
A new multifunctional SCL has been developed using a molybdenum disulfide transistors-based serpentine mesh sensor system. This sensor system is equipped with a photodetector and temperature sensor that provide optical information and measure glucose levels from tear fluid and corneal temperature. Furthermore, it can also monitor the IOP.
This next-generation soft electronics ocular device is extremely biocompatible and sensitive and holds immense promise for healthcare and medical applications, particularly in the diagnosis of potential corneal diseases. It can be used to diagnose dry eye disease and inflammation.
Glaucoma treatment
SCLs equipped with an IOP sensor can offer relief to glaucoma patients. Scientists from the School of Medical Sciences in New South Wales have implanted epithelial stem cells (ESC) from a healthy eye into a contact lens that helped repair vision loss due to a damaged cornea. In 2011, SENSIMED, a Swiss medical micro-technology company, designed a contact lens to detect glaucoma patients. This device monitors IOP pressure for 24 hours. Since this ocular diagnostic tool is portable in nature, the user can carry out their daily activities without any hindrance.
Future outlook of SCLs
The key challenges of SCLs are associated with accuracy and data reliability. These challenges are mostly due to the limitations of sensing technology. Some areas of SLC manufacturing that require further improvements are stability, wearer comfort, wireless communication, and power delivery.
In the future, nanogenerators, particularly the nano-triboelectric generator, could be used as a power supply module for contact lenses. Artificial intelligence could be applied to improve the therapeutic effect of SCLs. This article shows that effective applications of next-generation contact lenses could significantly improve disease diagnosis and treatment.
References
Seo, H. et al. (2023) Smart Contact Lenses as Wearable Ophthalmic Devices for Disease Monitoring and Health Management. Chemical Reviews. 123(19), pp. 11488–11558. https://doi.org/10.1021/acs.chemrev.3c00290
Guo, S. et al. (2021) Integrated contact lens sensor system based on multifunctional ultrathin MoS2 transistors. Matter, 4(3), pp. 969-985. https://doi.org/10.1016/j.matt.2020.12.002
Ma, X. et al. (2021) Smart Contact Lenses for Biosensing Applications. Advanced Intelligent Systems, 3(5), 2000263. https://doi.org/10.1002/aisy.202000263
Chaudhari, P. et al. (2021) Next-generation contact lenses: Towards bioresponsive drug delivery and smart technologies in ocular therapeutics. European Journal of Pharmaceutics and Biopharmaceutics, 161, 80-99. https://doi.org/10.1016/j.ejpb.2021.02.007
Papas, E. et al. (2021) A Biomimetic Approach for Development of a Next-Generation Monthly Contact Lens. Contact Lens Spectrum. 36, pp.16-20.
Moreddu, R. et al. (2019) Contact Lens Technology: From Fundamentals to Applications. Advanced Healthcare Materials, 8(15), 1900368. https://doi.org/10.1002/adhm.201900368
Further Reading
All Contact Lenses Content
How do Contact Lenses Work?
Last Updated: Oct 24, 2023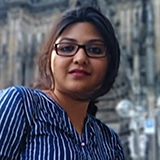 Written by
Dr. Priyom Bose
Priyom holds a Ph.D. in Plant Biology and Biotechnology from the University of Madras, India. She is an active researcher and an experienced science writer. Priyom has also co-authored several original research articles that have been published in reputed peer-reviewed journals. She is also an avid reader and an amateur photographer.