Say you have the perfect Tinder profile. You have the sexy shirtless photo, the sweet picture of you and your grandmother, and that one shot where your jaw looks really chiseled and presidential. You have the clever bio that somehow simultaneously suggests that you don't hook up with a lot of women, but that you definitely could (if only you weren't so busy working as a firefighter who specializes in canine rescues.) Women swipe right on your profile so fast you can't keep track of them all. And that's when you spiral.
"He's hot and he seems cool, but the back-and-forth is mehhhh," a friend said last weekend. By chance she'd matched on Tinder with another friend of mine—a friend whom I know to be really fun to talk to. She pulled up their conversation on her phone. "Hey," he started in, "how's your week going?" "Pretty good," she responded, "how about you?" "Fine," he said. It was the kind of disinterested conversation you have with the front desk staff at your dentist's office. I was confused: Both of my friends are funny, energetic talkers. If not for my crippling fear that everyone in my life will get married before I do, I'd have already set them up myself. But I could see that their rapport on Tinder was, in fact, mehhhh.
It's inconvenient that a social skill as specific and hard-to-master as "Tinder banter" could stand between my two friends finding love and making me godmother to their would-be children. Tinder banter is way harder than real-life flirting, but with these six tips you, too, can become a master of chit-chat.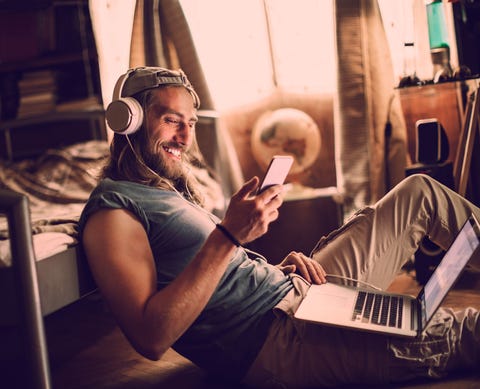 Getty ImagesGeber86
Embrace the Banter
A lot of Tinderinos try to skip the back-and-forth by asking their banter-ees on dates right off the bat, or by writing something like "I don't really like talking on here, let's just get to know each other in person" in their bios. Nice try. Women use pre-date chit-chat to make sure that men aren't sociopaths or catfishes (I go into every interaction with a strange man assuming that he's the Zodiac Killer). When a man suggests he's not up for Tinder banter, it's a little bit like a prospective employee saying he's not up for a drug test. Suspicious!
Set the Tone
Your opening line is important. I know it's tempting to send "hey" or a waving hand Emoji and be done with it, but you'll get what you give: If you reach out with something lazy, your whole rapport is going to be lazy. Your goal is to make the person you're bantering with feel relaxed, so start with something that sets her up to respond wittily. It's really hard to respond to "how are u?" in a funny, engaging way, for example. "Would you rather" questions, on the other hand, are a good bet. My go-to is: "Would you rather live in a house full of motivational posters or paintings of creepy children?" (The latter, duh.)
A Little Rough is Better Than Too Smooth
It's exhausting when someone comes at you with a bunch of innuendos and Johnny Bravo confidence: I feel like I have to be really smooth and super-confident in return. One time a guy on Tinder sent me a really dumb opening line and then followed it a beat later with, "Sorry, that was so bad. You're just really pretty and I got nervous." It was so un-smooth that it was… smooth.
Relax!
An editor once told me that whenever I forget how to write (this happens forty times a day) I should go back and re-read the last few things I wrote. Whenever you're having trouble relaxing the banter sphincter, read a couple lines of a text conversation you've had with a friend. Then, when you're on Tinder trying to make sweet sweet chit-chat with someone, you'll have a normal version of yourself in the back of your head, as a reference.
Stop While You're Ahead
Once banter has ended—when, for example, one of you has fallen asleep, phone in hand, after hours of robust small talk—it's very hard to get it going again. Wrap things up on a high note: As soon as it's clear that you have good chemistry, ask for her number or suggest a date. Then get out of there.
Source: Read Full Article